Experience + Foresight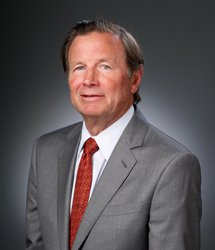 Richard I. Gilchrist
Chairman of the Board & Independent Director
Richard I. Gilchrist joined the board as an independent director in 2014 and was elected chairman of the board in 2015. He also currently serves on the board of directors at Ventas, Inc. (NYSE: VTR) and Spirit Realty Capital, Inc. (NYSE: SRC). Mr. Gilchrist is senior advisor at The Irvine Company and previously served as president of Irvine's Investment Properties Group (IPG) from 2006 to 2011. Prior to IPG, Mr. Gilchrist served as president and co-chief executive of Maguire Properties, Inc. Mr. Gilchrist has also served as president and chief executive officer of Commonwealth Atlantic Properties, a privately held REIT. He currently serves as a member of the Whittier College Board of Trustees and the UCLA School of Law Board of Advisors.
Christie Kelly
Independent Director
Ms. Kelly joined the board in 2019 with extensive leadership, real estate, and public company experience. She most recently served as the global chief financial officer for Jones Lang LaSalle (NYSE: JLL) from 2013 to 2018, and was executive vice president and chief financial officer of Duke Realty Corporation (NYSE: DRE) from 2009 to 2013. Prior to these roles, she held various real estate and finance positions with both Lehman Brothers and General Electric (NYSE: GE), including GE Real Estate and GE Capital. Ms. Kelly holds a bachelor of arts degree in economics from Bucknell University and currently serves on the board of directors for Park Hotels & Resorts (NYSE: PK) and Kite Realty Group (NYSE: KRG).
R. Kent Griffin, Jr.
Independent Director
Kent Griffin joined the board as an independent director in January 2017 and brings extensive experience in real estate operations, corporate finance and capital markets. Mr. Griffin served from 2008 to 2015 as President and Chief Operating Officer of BioMed Realty Trust, Inc. (former NYSE: BMR), a leading provider of real estate for the life science industry. Mr. Griffin joined BioMed as Chief Financial Officer in 2006, and prior to that, he worked in investment banking and public accounting and advisory. He is a graduate of Wake Forest University and holds a master in business administration from the University of North Carolina at Chapel Hill.
Dennis J. Martin
Independent Director
Dennis J. Martin joined the board as an independent director in 2016 with an expansive background in financial planning & analysis and public capital markets. Mr. Martin served as the chief financial officer of Carefree Communities, Inc., a privately held owner and operator of manufactured home and RV communities, prior to its acquisition in June 2016. He previously held senior leadership roles at HCP, Inc. (NYSE: HCP) and Apartment Investment and Management Company (Aimco) (NYSE: AIV). Mr. Martin has comprehensive leadership experience in investor relations and strategic planning roles, including 18 years with Gulf Canada, at the time one of Canada's largest oil and gas companies, and its majority-owned subsidiary Gulf Indonesia.
Gregory J. Whyte
Independent Director
Gregory J. Whyte joined the board as an independent director in February 2017. Mr. Whyte has been involved extensively in the REIT and publicly-traded real estate securities industry since 1987. From 2007 until 2016, Mr. Whyte was Senior Advisor in the Real Estate Leisure and Lodging Investment Banking group at UBS Securities. Prior to that, he was a Managing Director, Global Head of Real Estate Equity Research at Morgan Stanley from 1991 to 2006, and worked previously at Lehman Brothers and UAL Merchant Bank. He received a bachelor of commerce, business finance from the University of Natal in 1982, and an honors degree, advanced business finance from the University of Natal in 1983.